What Does a Dental Therapist Do?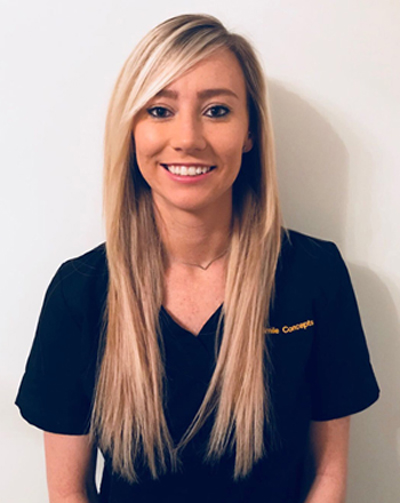 What is a Dental Therapist?
At Smile Concepts, dental practice in Solihull, we are excited to welcome Lucy Fisher to the practice team. Lucy is a dental therapist and graduated with honours from Birmingham University in 2010.
Read on to find out more about this important role and the treatments that Lucy will be offering you.
The History of Dental Therapy
Introduced in the early 20th century with the aim of dealing with the widespread issue of poor dental health in children, dental therapy also played a vital role in supporting the dentistry profession during both World Wars and then through the 1950's in schools when dentists were in short supply. Until 2002 dental therapy was only permitted in community and hospital dental service.
Through necessity and changes to legislation the role has evolved and more practices are recruiting a dental therapist to the team so that dentists can delegate some more routine treatments and offer patients a wider range of choice for appointments and providers.
All dental therapists must obtain a diploma or degree in dental therapy and be registered with the General Dental Council's (GDC).
What Treatments Can a Dental Therapist Do?
As a dental therapist Lucy is interested in your well-being as a whole and you will find her asking plenty of questions about your dental history, she will also evaluate your medical history in general.
This holistic approach is incredibly beneficial to you as a patient as it means that treatment plans can be individually tailored to meet your health needs.
Once your treatment plan is set, you can expect Lucy to be expertly administering everything from stain removal through to composite restorations including the very exciting and pioneering gap-filling treatment known as the Bioclear Method.
Here's a full list of all Lucy's areas of expertise:
Stain removal
Periodontal treatments
Deciduous treatments
Amalgam restorations
Composite restorations including the Bioclear Method
Lucy is dedicated to enhancing her skills for your benefit as a Smile Concepts patient. She has recently completed courses in aesthetic facial treatments and can carry out anti-wrinkle injections and dermal fillers to enhance your smile.
A Caring Approach to Dental Health
If your own dental health is something that's on your mind, but you are in any way anxious about taking steps to deal with it, we know that you'll find Lucy really easy to talk to. Her gentle, caring and non-judgemental approach makes her very popular amongst patients who are nervous, and she's also especially gifted in helping patients with learning or physical disabilities together with those with extensive untreated decay.
We do hope you will join us in extending a very warm welcome to Lucy. We know you'll enjoy getting to know her and, if you have been putting off seeing someone about your dental health, we encourage you to get in touch so we can arrange for you to meet her for a chat.